Linda Mar State Beach, Pacifica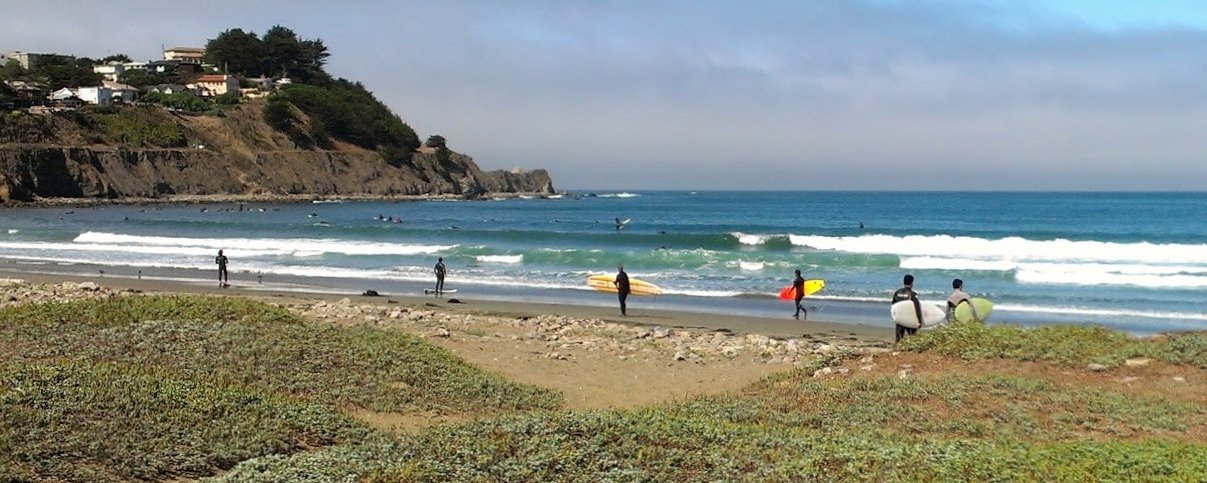 Volunteer and join our Linda Mar Beach cleanups in Pacifica!
About Linda Mar State Beach:
Also known as Pacifica State Beach, Linda Mar is a wide crescent-shaped beach favored as a local surfing spot, and one of the most loved and used beach in Pacifica by residents and visitors alike. Located adjacent to Highway 1, it features a coastal trail stretching along the beachfront to enjoy from one end to the other, and is critical habitat for the threatened Western Snowy Plover. In addition to beach cleanups, it is the site of native habitat restoration events providing hands-on learning experiences for participants.
Between 1989 and 2005, Linda Mar underwent an extensive beach habitat restoration program, in association with the San Pedro Creek flood control and habitat restoration. It is one of the first beaches to utilize managed retreat as a method of shoreline protection. In addition to beach nourishment, habitat for four threatened and endangered species was restored, and community access with expanded parking lots, trails and new restrooms was enhanced. Over 1 million people visit Linda Mar annually.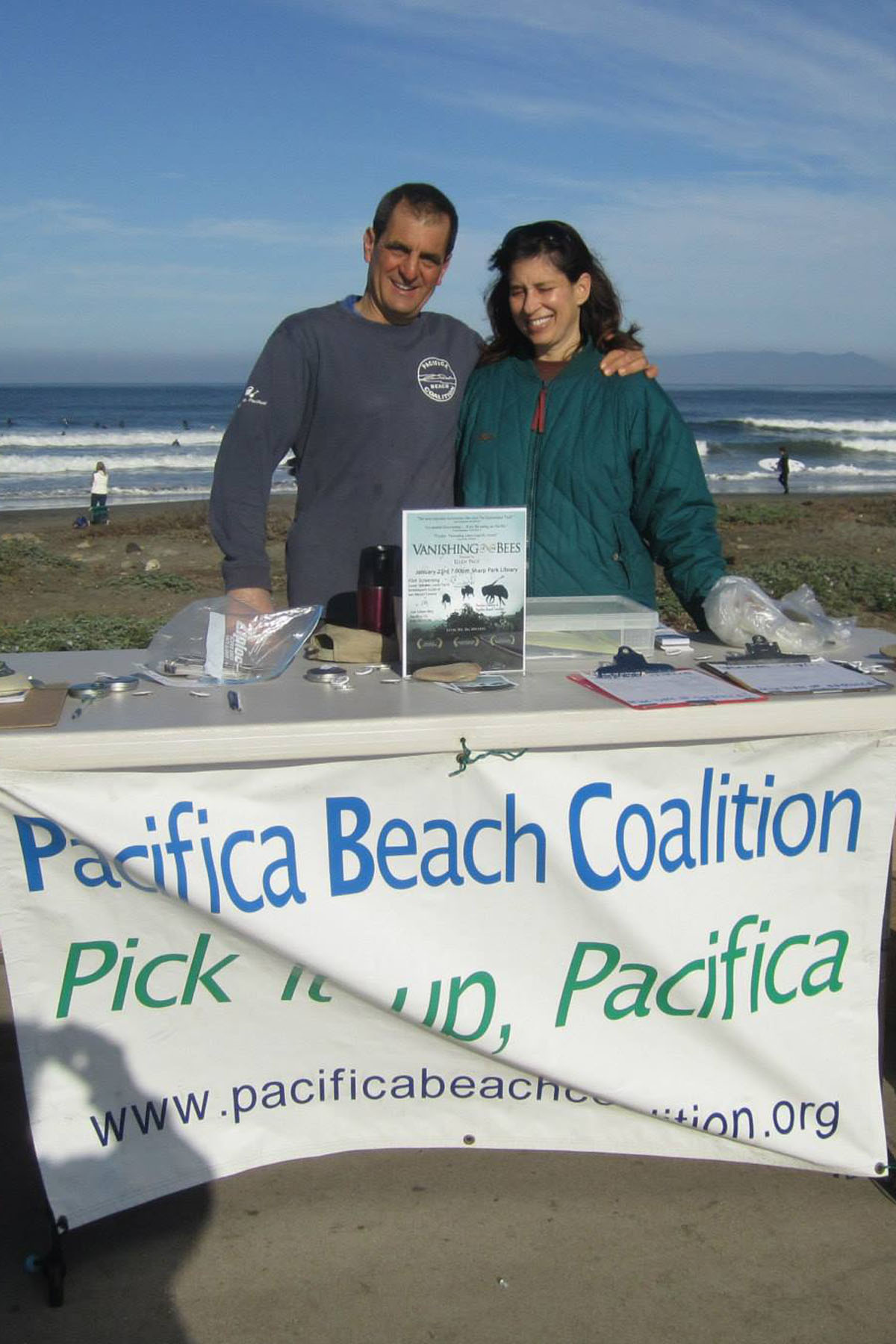 Site Captains:
Ana, Jim, Julie, Antony, Juliana and Marlee.
Meet Ana Garcia and Jim Fithian. Together, this husband-wife dynamic duo have been active coalition members and co-captains since 1997. They established our very first Adopt-A-Beach site at Linda Mar beach in September 1998 (during Coastal Cleanup Day). Since then, they've led monthly cleanups every third Saturday of the month which began while dogwalking and picking up litter along Pacifica's shoreline. This husband-wife Earth Hero team has been dedicated to being part of the pollution prevention solution by leading by example, by engaging volunteers in hands-on 'eco-action,' and by inspiring current and future generations to learn, value, appreciate and become lifelong stewards of our ocean, beaches, and coastal habitat. Their astounding commitment has earned them well-deserved recognition throughout the years for the significant difference they've made in reducing litter and harmful marine debris at one of San Mateo County's most popular beaches. Both have been recognized by the California State Assembly (2013) and the Pacifica Chamber of Commerce (Clean & Green Award 2002) for protecting our beaches and coastal environment. Ana and Jim are also members of our Board of Directors.
About the Cleanup:
Time: Third Saturday of the month from 9am-11am. Check our online monthly calendar for exact dates. Rain may cancel cleanup. If you've registered in advance, you'll receive a cancellation notice. If you have not registered, check our calendar for the latest information.
Where to Meet: At the southern end of the main parking lot (near Taco Bell).
Parking: Fee to park. However, when you check in, site captains provide a parking pass good for use during your participation in the cleanup. Should you stay beyond cleanup hours, fees apply. The daily fee to park one vehicle in the Parking Lots through June 30, 2020 is $7 for a period of less than 4 hours and $9 for a period of more than 4 hours (or all day).
Additional parking is available at Crespi Parking Lot on the east side of Highway 1 at corner of Crespi Drive (adjacent to Pacifica Community Center).
Cleanup Areas: The parking lots, promenade and the beach.
Supplies: Volunteers are encouraged to bring their own buckets and reusable gloves. Extra gloves, buckets, pickup sticks and specific tools for this site cleanup will be provided while supplies last. Because we are never sure of the weather, make sure to bring extra layers, a hat, sunblock, water and snacks.
Litter: Expect picking small and large pieces of trash from this popular beach site. Linda Mar site is a designated Japanese Tsunami Marine Debris Cleanup Program location. Each year, Post 4th of July Cleanups also take place to remove toxic fireworks debris before it washes out to the ocean and becomes harmful marine debris.
Restrooms: Yes (with outdoor showers at parking lot). Open 6am-10pm.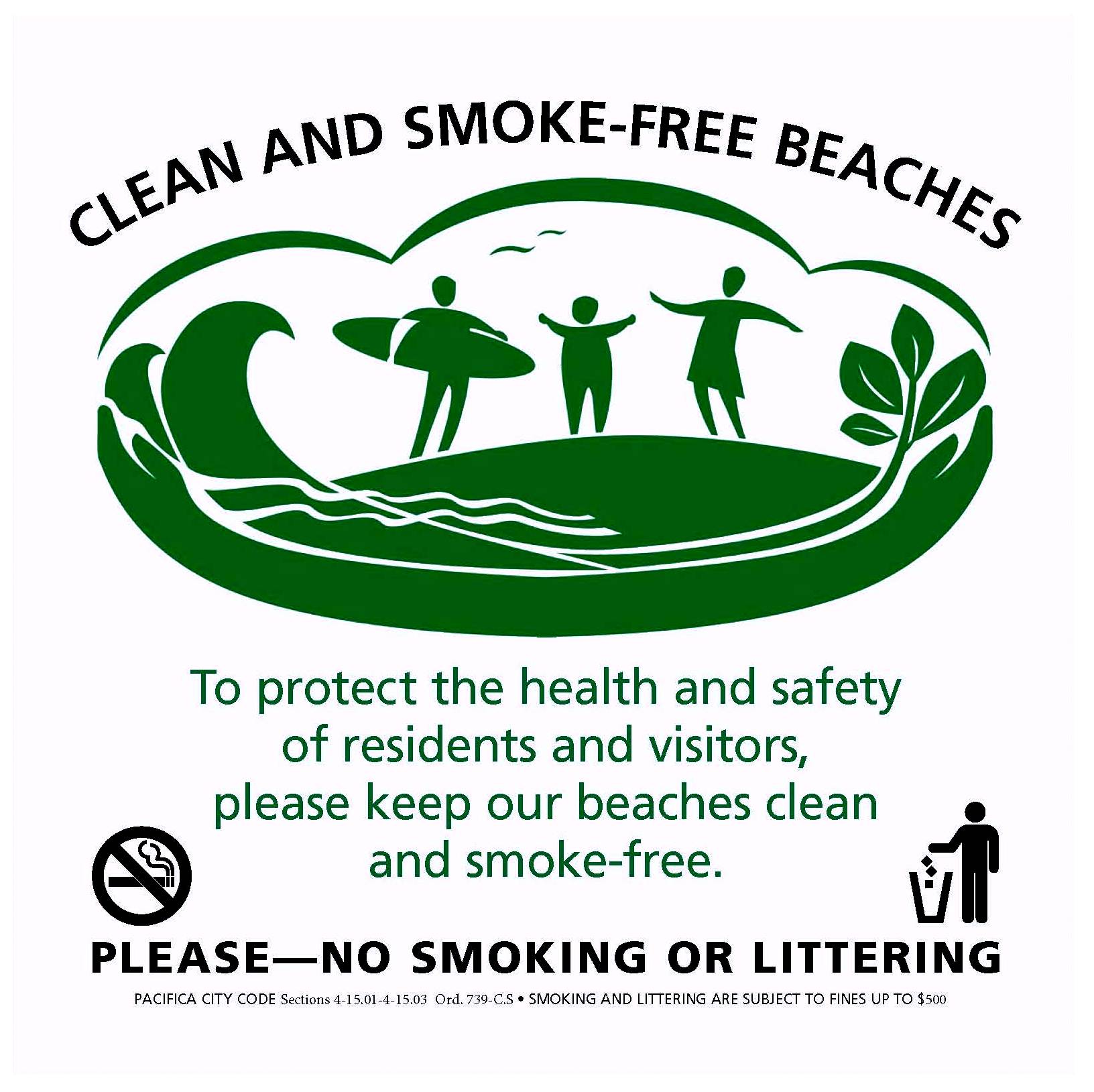 Special Regulations:
Dogs: Permitted on leash on beach. Use caution around the seasonal fencing installed to protect the federally endangered western snowy plover. Please be responsible and pick up your dog waste.
Fires or BBQ grills and glass containers: Prohibited on beach.
Fireworks: Read the City of Pacifica's Restrictions on the use of fireworks at Linda Mar Beach.
Smoking: Prohibited on beach. Linda Mar is a smoke-free beach under City of Pacifica ordinance subject to fines for violation since 2006.
Wildlife & Habitat Protection Measures: Seasonal fencing is installed to protect the federally endangered Western Snowy Plover. Installed north of the Crespi path entrance on the west side of the dunes, it will remain in place until the plovers leave in mid-April and be removed in mid-August. In Pacifica, snowy plovers over-winter – usually arriving mid-August and leaving sometime in March or April. During this time they fatten up on rich protein diet of kelp flies, beach hoppers, other insects and small invertebrates washed up on the beach, and occasionally in the back dunes. When not foraging, snowy plovers nestle down in the sand, low enough to be warmed by radiant heat and still have a view out to the sea. Their primary defense is sitting still and blending in. The Western Snowy Plover winter roosting population at Pacifica State Beach has declined by 75 percent since early 2002.
Be sure to read through the Cleanup Guidelines before attending a cleanup.
More questions? Read our Beach Cleanup FAQs.
Would You Like to Join Us? To make sure we bring the right amount of supplies, to be more efficient and conserve paper, please complete our online form. It will only take you a few seconds. Make sure to check our calendar to find out when is the next cleanup before signing up. If you checked our calendar sign up here!
Make a Contribution to the Cleanup:


Read About the Team in Action: Check out the Linda Mar Blog.
Linda Mar Beach Cleanup Location Map:

View linda mar in a larger map
Directions: From the junction of Highway 1 and I-280 in Daly City, take Highway 1 south and drive 6.7 miles to Linda Mar and the entrance to Pacifica State Beach on the right.